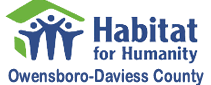 Double Your Impact
With your generous donation:
Did you know that housing insecurity touches nearly half of adults at some point in their lives? You can help.  There are families right here in Owensboro-Daviess County that can find refuge, hope, and security with a home of their own;  a home they purchase themselves – with YOUR help.
Some generous anonymous donors have sponsored a donation match this year – and will match your contribution, dollar for dollar through the end of the year! There has never been a better time to donate to Habitat for Humanity.
Please consider a generous donation, and take advantage of this limited-time match, and DOUBLE your impact.  You can use the secure form below, or if you prefer, mail your donation to: Habitat for Humanity Owensboro-Daviess County, 2930 West 4th Street Owensboro, Kentucky 42301.
Questions? Just call us: (270) 926-6110